Giving your significant other the right gift can make or break your Valentine's celebration. If you're also giving something to your best friend, mom and children, you may need a little help finding the perfect token.
Erase some of frustration involved in finding the perfect gift and enjoy the holiday of love and romance with these great Valentine's gift-giving tips: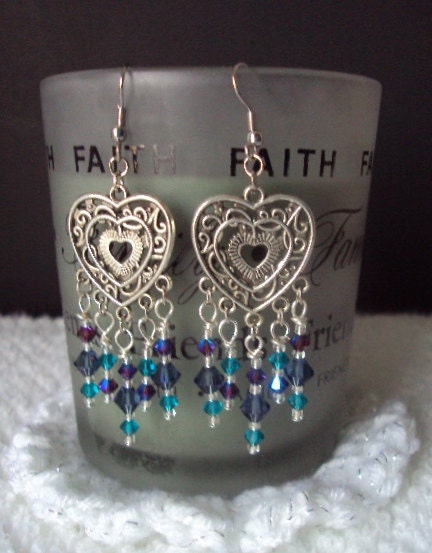 Valentine Heart Motif Chandelier & Swarovski Crystal Earrings
Want to take a unique route but lack a good idea? Start searching for ideas online. Traditional gifts can be altered slightly with gifts that incorporate jewels, chocolate or flowers in an unusual setting. For example, a
bouquet of chocolate
-covered strawberries designed to look like a bouquet of roses, puts a unique twist on several of the more popular gifting items.
Or deviate completely from the traditional and look for gifts your loved ones would appreciate, but never expect for Valentine's Day. Use your computer to help you find great gift ideas for others on your Valentine's Day shopping list like your grandma and best friends.
If you have an idea in mind, find product reviews and recommendations from experts and savvy shoppers with a few quick online searches. Use forums to read reviews on products ranging from electronics to travel. This way not only will you be able to confirm that your idea is a great one, but also ensure you find the best prices, and the best retailer for that product.
If you choose to go the traditional route and order your girlfriend a beautiful bouquet of flowers from
ProFlowers
, You can get a FREE glass vase with any bouquet and Guaranteed on-time Valentine's delivery to make your Valentine's Day celebration even more special.
Many artists from etsy provide free shipping & discounts, like featured artist
MamaBecca73
allowing you to save plenty of money this Valentine's Day and helping to ease your gift shopping frustrations.
Here are some great gift ideas for $25 and under
Celebrate the holiday of love and romance this year in style with great gifts for your loved ones. Go online, gather great and unique ideas and don't forget to save while shopping.